12 May 2022
Trending Vulnerable Products
Open Source
| Name | Heat 7 |
| --- | --- |
| F5 BIG-IP | |
| Acrobat Reader DC | |
| F5 BIG-IQ | |
| Azure Data Factory | |
| F5 BIG-IP APM | |
Deep & Dark Web
| Name | Heat 7 |
| --- | --- |
| F5 BIG-IP | |
| Microsoft Windows | |
| Microsoft Exchange Server Enterprise | |
| Microsoft Windows 11 | |
| Windows Print Spooler | |
The tables show the products which have been mentioned more than usual during the last week in connection with vulnerabilities.
Data Leaks & Breaches
Leaks & Breaches
| Company | Information | Affected |
| --- | --- | --- |
| ENCollect (India) | An unsecured ElasticSearch instance used by the company exposed 1,686,363 records totaling 5.8GB of storage. Possibly compromised data includes names, loan amounts, dates of birth, account numbers, and more. A total of 48,043 unique email addresses and 114,747 mailing addresses were also included. | Unknown |
| Heroku (US) | An attacker gained access to a Heroku database and downloaded stored OAuth tokens on April 7th, 2022. On April 9th, 2022, the attacker downloaded a subset of Heroku private GitHub repositories containing some Heroku source code. The same compromised token was used to gain access to a database and exfiltrate hashed and salted passwords for customers' user accounts. | Unknown |
| WellDyneRx LLC (US) | The company discovered unauthorised access to an email account between October 30th and November 11th, 2021. Potentially compromised data includes names, dates of birth, Social Security numbers, health insurance information, and more. | Unknown |
| North Alabama Bone & Joint Clinic (US) | The clinic determined that some employee email accounts were accessed without authorisation on March 9th, 2022. Possibly exposed data includes names, contact information, financial information, dates of birth, health insurance information, and more. | Unknown |
| AGCO (US) | On May 6th, 2022, the company disclosed it suffered a ransomware attack that impacted some of its production facilities. AGCO anticipates business operations to be adversely affected for several days or longer. | Unknown |
| Belton Police Department (US) | The police department suffered a malware attack that targeted certain network systems. An investigation is ongoing to determine whether any personal data was compromised, though any impacted data is believed to already be in the public record. | Unknown |
| IKEA Canada | An employee conducted unauthorised searches of an internal database of Canadian customers between March 1st and March 3rd, 2022. Some of the customers' personal information was compromised as a result. This includes names, email addresses, phone numbers, postal codes, and potentially IKEA Family loyalty program numbers. | ~ 95,000 |
| LLC Capital (Russia) | The Anonymous hacking collective leaked a 20.4GB archive containing 31,990 emails, allegedly stolen from the accounting firm. The firm works with Mokhail Gutseriev's SAFMAR Group and its assets, including JPSC RussNeft. | Unknown |
| DeKalb County School District (US) | The district made thousands of files containing sensitive staff and student information widely accessible to anyone in the district. Exposed information includes Social Security numbers, academic records, medical forms, course transcripts, standardised test scores, and more. | Unknown |
| Omnicell (US) | The company confirmed that some of its services, products, and internal systems were impacted in a ransomware attack discovered on May 4th, 2022. | Unknown |
| ORESTAR (US) | On May 9th, 2022, the United States Oregon Elections Division learned that Opus Interactive, the web hosting provider used by the campaign finance firm C&E Systems, suffered a ransomware attack. C&E's database was compromised, including their client's login credentials for ORESTAR accounts. | 1,100 |
| Optima Dermatology (US) | Unauthorised access to an employee email account occurred between August 30th and September 3rd, 2021. Possibly compromised data includes names, dates of birth, medical treatment, health insurance claims, and more. | 59,972 |
| Eye Care Leaders (US) | EvergreenHealth and Summit Eye Associates were impacted by a December 2021 ransomware attack against Eye Care Leaders. Potentially compromised information includes names, dates of birth, Social Security numbers, medical record numbers, health insurance details, and more. | 74,351 |
| AA Traveller (US) | In August 2021, an unauthorised party gained access to information stored within a vulnerable database and may have extracted personally identifiable information on customers. Potentially compromised information includes names, addresses, contact details, and expired credit card numbers. | Unknown |
| Oklahoma City Indian Clinic (US) | The clinic onfirmed that ongoing network disruptions were the result of a ransomware attack that occurred on March 10th, 2022. Potentially exposed data includes names, dates of birth, treatments, prescriptions, Social Security numbers, and more. | Unknown |
| Central Bedfordshire Council (UK) | The council disclosed that it accidentally published the personal data of individuals with special education needs after a Freedom of Information Act request about schooling was released on May 9th, 2022. The information has since been removed from the website. | 100 |
| Top Aces (Canada) | The fighter jet company was added to the LockBit ransomware leak site, with the group threatening to leak 44GB of allegedly stolen data on May 15th, 2022. | Unknown |
| Dis-Chem (South Africa) | On April 28th, 2022, an unauthorised party gained access to a third-party database containing personal information on individuals. The exposed information includes first names and surnames, email addresses, and mobile phone numbers. | 3,687,881 |
| Multiple Companies | On May 7th, 2022, a database containing the personal details and login credentials of 21 million individuals was leaked in a Telegram group. Included in the dump was the data of multiple VPN users, including SuperVPN, GeckoVPN, and ChatVPN. Included in the exposed data are full names, usernames, county names, billing details, email addresses, randomly generated password strings, and premium status and validity period. | 21,000,000 |
Ransomware mentions in Healthcare
Time Series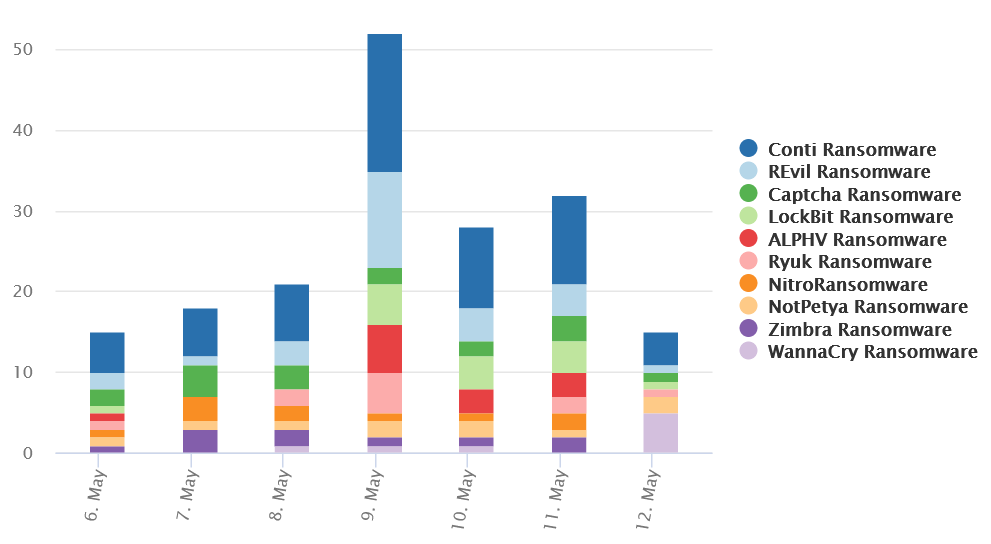 This chart shows the trending ransomware related to Healthcare within a curated list of cyber sources over the past week.
Weekly Industry View
Industry View
| Industry | Information |
| --- | --- |
| Government | On May 8th, 2022, Costa Rica President Rodrigo Chaves declared a national emergency following a spate of Conti Ransomware attacks against multiple government bodies. On the same day, BleepingComputer observed that Conti's leak site was updated to state they had leaked 97% of the 672GB of data allegedly stolen from Costa Rican government agencies. According to Conti's leak site, affected government bodies include the Ministry of Finance, the Ministry of Labour and Social Security, the Social Development and Family Allowances Fund, and the Interuniversity Headquarters of Alajuela. |
| Critical Infrastructure | On May 10th, 2022, the United Kingdom, United States, and the European Union officially attributed the cyberattack against Viasat's KA-SAT satellite on February 24th, 2022, to Russia. The UK's National Cyber Security Centre additionally assessed that Russian military intelligence was almost certainly involved in the defacements of Ukrainian government websites on January 13th, 2022. Both the US and the UK assessed that Russian military cyber operators deployed the WhisperGate malware against Ukraine, along with other destructive malware. |
| Healthcare | Proofpoint researchers identified a novel malware variant, dubbed Nerbian RAT, that utilises significant anti-analysis and anti-reversing capabilities. The malware is spread through phishing emails that leverage COVID-19 and World Health Organization themes. The campaign was first identified on April 26th, 2022, and targets entities in Italy, Spain, and the United Kingdom. |
| Technology | A recently disclosed remote code execution vulnerability in F5 BIG-IP devices has been used in destructive attacks that attempt to erase a device's file system and make the server unusable. The majority of other attacks have aimed to drop webshells for initial access to networks, steal SSH keys, and enumerate system information. The critical flaw, tracked as CVE-2022-1388, was patched on May 4th, 2022, and soon after multiple exploits were made public by researchers.  |
| Banking & Finance | A new credit card stealing service, dubbed Caramel and believed to be in operation since at least December 2020, is increasingly growing in popularity. The service was discovered by Domain Tools, which states the platform is operated by a Russian cybercrime group named CaramelCorp. The service supplies subscribers with a skimmer script, deployment instructions, and a campaign management panel, which provides threat actors with everything needed to launch their own credit card stealing campaign. The sellers claim that Caramel can bypass protection services from Cloudflare, Akamai, Incapsula and more. A variety of obfuscation techniques are also offered to subscribers to help evade detection. |
News and information concerning each mentioned industry over the last week.
Silobreaker's Weekly Cyber Digest is a quantitative summary of our threat reports, published every Thursday. The reports are created using our award-winning intelligence product Silobreaker Online.