Home – Reports – Weekly Cyber Digest – Weekly Cyber Digest:06 – 12 August 2021
12 August 2021
Trending Vulnerable Products
Open Source
| Name | Heat 7 |
| --- | --- |
| Microsoft Edge | |
| cPanel | |
| Microsoft NET Core | |
| Foxit PhantomPDF | |
| Palo Alto Networks PAN-OS | |
Deep & Dark Web
| Name | Heat 7 |
| --- | --- |
| NVIDIA GeForce Now | |
| Microsoft Exchange Server Enterprise | |
| Cobalt Strike | |
| Linux OS | |
| Google Gmail | |
The tables show the products which have been mentioned more than usual during the last week in connection with vulnerabilities.
Data Leaks & Breaches
Leaks & Breaches
| Company | Information | Affected |
| --- | --- | --- |
| Chamber of Deputies (Luxembourg) | The Chamber of Deputies accidentally published the names and addresses of public petition signatories on its website. The data was accessible from at least June 2021 until August 2nd, 2021. | 24,000 |
| University of Kentucky (US) | The university discovered a vulnerability on its website that may have allowed an unauthorised party to obtain a copy of a College of Education database. The database contained names and email addresses of students and teachers. | 335,000 |
| Ibex Limited (US) | Ibex reported that a cyberattack originally disclosed in October 2020 led to a data breach that could have impacted information linked to certain employees and their families. An investigation revealed that the threat actors may have accessed data between July 27th and August 17th, 2020. | 24,000 |
| Gigabyte Technology (Taiwan) | The manufacturer suffered a cyberattack on August 3rd, 2021, that affected a small number of its servers. The operators of RansomEXX ransomware appear to be behind the attack and threatened to leak 112GB they claim to have stolen. This includes data from an internal Gigabyte network and an American Megatrends Git Repository. | Unknown |
| Ermenegildo Zegna (Italy) | The operators of RansomEXX ransomware claim to have stolen 20.74GB of data from the fashion house and leaked 43 archives. | Unknown |
| Vision for Hope (US) | The company disclosed that an unauthorised actor accessed an email account belonging to a Hope employee from February 14th to April 2nd, 2021. The account contained names, dates of birth, Social Security numbers, financial account data, medical treatment information, diagnosis information, and more. | Unknown |
| StarHub (Singapore) | The telecommunications company discovered their customers' personal information on a third-party data dump website on July 6th, 2021. The discovered file reportedly contains the mobile numbers, email addresses, and identity card numbers of StarHub subscribers whose memberships date back to before 2007. The origin of the leak is unknown. | 57,191 |
| Transamerica Corporation (US) | The insurance company suffered a data leak caused by a configuration mistake during a website upgrade on June 14th, 2021. Some clients were able to access the information about the retirement contributions of other companies. Potentially accessed details include names, addresses, Social Security numbers, dates of birth, and financial details of the retirement plans. | Unknown |
| The New York City Education Department (US) | The department disclosed that the academic records and biographical data of the city's public school students and department staff was inadvertently leaked. At least one student within the public school system was able to access a Google Drive that contained sensitive data. | 3,100 |
| Illinois State Police (US) | The police confirmed that its Firearm Owners Identification (FOID) card portal was targeted in a cyberattack. The personal information of individuals with FOID cards may have been compromised. | 2,000 |
| Chanel Korea | The company stated that the personal information of some of its customers was stolen after parts of its database were compromised between August 5th and August 6th, 2021. Personal information stored on the database included customers' names, birthdays, phone numbers, addresses, sex, email addresses, and product purchase lists. | Unknown |
| SeniorAdvisor (US) | WizCase researchers discovered a misconfigured Amazon S3 bucket that exposed the names, emails, and phone numbers of individuals identified as leads. The data appears to date between 2002 and 2013. The bucket also contained around 2,000 anonymous reviews that could be linked to the personal information of the reviewers. | 3,000,000 |
| Greenway Health (US) | A dark web forum user claims to have encrypted the company's data on July 15th, 2021, and published 746MB of the data as proof of the attack. The files contained some personal information of individuals. Greenway stated that the company's former client, and not Greenway, was targeted in the attack. | Unknown |
| Charlotte-Mecklenburg Schools (US) | On August 6th, 2021, the school sent an email to 'hundreds' of parents exposing medical information, parents' phone numbers, and other sensitive student data. | 3,000 |
| Crytek (Germany) | The company confirmed that it was targetd in a ransomware attack in October 2020. The attack was previously attributed to Egregor attackers. Documents were stolen in the attack and subsequently leaked. The exposed information included names, job titles, company names, business addresses, phone numbers, and more. | Unknown |
| Electromed Inc (US) | The company stated that an unauthorised actor gained access to its systems and stole data on customers and employees. | Unknown |
| Multiple US School Districts | Researchers at Databreaches[.]net identified numerous K12 school districts hit by Pysa ransomware. The attacks took place in 2020 and 2021. The schools include Affton School District, Gering Public Schools, Palos Community Consolidated School District 118, Brookfield Public Schools, Winters Independent School District, Sheldon Independent School District, Logansport Community School Corporation and Zionsville Community Schools. | Unknown |
| Accenture (Ireland) | The global IT consultancy confirmed that it was targeted in a Lockbit 2.0 ransomware attack. The attackers claim to have stolen 6TB of data and are demanding $50 million. On August 11th, 2021, the attackers released some stolen files, which primarily consisted of marketing material, and threatened to release more data. | Unknown |
| OT Group (Singapore) | The real estate group received an email from a third party claiming to have accessed its IT network. It is currently investigating the nature and extent of the breach. DataBreaches[.]net noted that a comment on its reporting of the breach appears to show the threat actor ALTDOS claiming responsibility for the attack. | Unknown |
Ransomware mentions in Technology
Time Series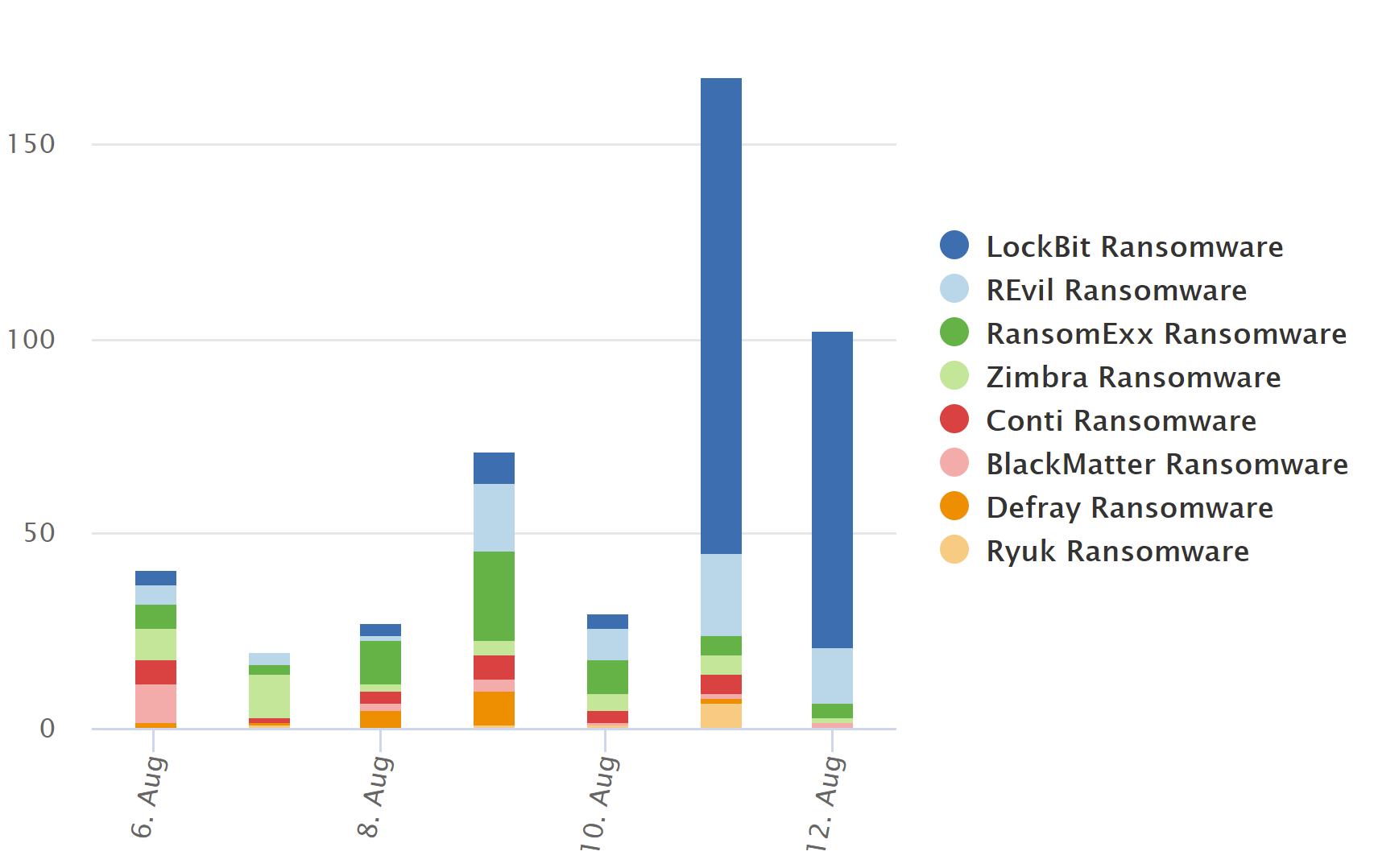 This chart shows the trending ransomware related to the Technology Industry within a curated list of cyber sources over the past week.
Weekly Industry View
Industry View
| Industry | Information |
| --- | --- |
| Banking & Finance | Segurança Informática discovered a new Latin American banking trojan, dubbed Warsaw, that uses a customised version of Horus Eyes RAT as its second-stage payload. The remote access trojan allows for full control over a victim's device. The .NET banker Warsaw uses an overlay window mimicking Santander to trick a user into downloading a PE file in the form of an executable. The researchers found that the name of the Telegram bot creator, Banking171, shows similarities to Anubis171, a name linked to the Brazilian ANUBIS phishing network discovered in December 2020. It is unclear whether the two are connected in some way, but the researchers pointed out that the Warsaw threat actor also originates from Brazil. |
| Technology | Researchers at Crowdstrike reported that the criminal actor PROPHET SPIDER, which has been active since at least May 2017, is exploiting Oracle WebLogic flaws to access target environments. The researchers identified PROPHET SPIDER commonly compromising Linux systems before moving into Windows-based environments with compromised credentials via Telnet, SSH or SMB. In two separate incidents PROPHET SPIDER infections preceded ransomware deployment, namely Egregor and MountLocker ransomware. |
| Retail & Hospitality | Researchers at RiskIQ identified the infrastructure used by Magecart Group 8. The group, which has been active since 2016, targets the home improvement sector and uses the same skimmer and techniques that were first reported on by RiskIQ in 2017. The researchers found that the group used bulletproof hosting providers such as Flowspec, JSC TheFirst, and OVH, before transitioning potentially inactive infrastructure to legitimate hosting services such as Velia[.]net, WorldSteam, and Amazon. RiskIQ stated that the 'sheer amount' of infrastructure used by Magecart Group 8 indicates that the group has been continually successful in their skimming operations. |
| Cryptocurrency | The cross-chain protocol Poly Network was targeted in a cyberattack which resulted in attackers stealing $611 million. According to The Block Research, the attack was the result of a cryptography issue. The attack also impacted the trading pool O3, who suspended its cross-chain functionality. Among the stolen tokens were $273 million in Ethereum, $253 million tokens on Binance Smart Chain, and $85 million in USDC. The attacker has since returned about half of the stolen funds. |
| Government | Lumen Technologies researchers identified an updated version of ReverseRat, a remote access trojan first observed being used by a suspected Pakistan threat actor in June 2021. Recent attacks targeted at least one government entity and other organisations in Afghanistan, as well as a small number of organisations in Jordan, India and Iran. The malware is delivered via a ZIP file containing a Microsoft shortcut file that fetches an HTA file from a compromised WordPress site. Once decoded and executed, the file serves a decoy PDF referencing a supposed United Nations briefing session alongside a malicious payload. ReverseRat was previously installed in parallel with the AllaKore agent, however, a new agent, called NightFury, now runs before ReverseRat is installed. The malware is executed via the sideloading technique using different Microsoft binaries. |
News and information concerning each mentioned industry over the last week.
Silobreaker's Weekly Cyber Digest is a quantitative summary of our threat reports, published every Thursday. The reports are created using our award-winning intelligence product Silobreaker Online.